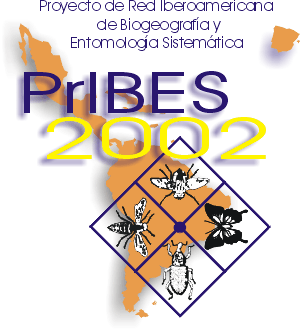 Introducción PRIBES 2002: 13-20
In Memoriam: Fermín Martín-Piera (1954-2001)
Gonzalo Halffter

Introducción PRIBES 2002: 21-26
Introducción / Introdução
Jorge Llorente, Cleide Costa & Sergio Antonio Vanin

I. Diagnóstico sobre dípteros neotropicales PRIBES 2002: 29-36

Estado do conhecimento dos Diptera neotropicais
Dalton de Souza Amorim, Vera Cristina Silva & Maria Isabel P. A. Balbi
Resumo
Este trabalho tem como objetivo fornecer uma síntese sobre a sistemática e a diversidade de Diptera na região Neotropical. Ele complementa as informações publicadas pelo "Proyecto Iberoamericano de Biogeografía y Entomología Sistemática (PrIBES)" sobre os grupos megadiversos de insetos, como subsídio para a compreensão e a preservação da biodiversidade Neotropical. Para tanto, foram incluídos dados da história da Dipterologia na região Neotropical, listaram-se os catálogos e manuais mundiais, os trabalhos gerais sobre estágios imaturos, fósseis, filogenia, biogeografia. É apresentada também a sistemática dos grandes grupos dentro da Ordem, além de comentários sobre a sua diversidade na região Neotropical. Algumas sugestões de passos necessários à expansão do conhecimento dos Diptera na região são apresentadas, tais como a disponibilização de informação e descrição da fauna. Essas sugestões visam a ampliação do conhecimento da biodiversidade da entomofauna neotropical, compreendida em suas relações e evolução biogeográfica, para ser melhor preservada.
Palavras chave: Dipterologia Neotropical, Diptera, biodiversidade, insetos megadiversos, sistemática.

Current knowledge of Neotropical Diptera
Abstract
This paper presents a synthesis of the systematics and diversity of the Diptera in the Neotropical region. This information is complimentary to that already published by the "Proyecto Iberoamericano de Biogeografía y Entomología Sistemática (PrIBES)" about megadiverse insects groups, as a tool for understanding and conservation of the Neotropical biodiversity. A summary about the history of Dipterology in the Neotropical region is given, and published catalogues are referred to, as well as world Diptera manuals, monographs on immatures, fossils, phylogeny, and biogeography. An overview of the Diptera classification is presented, and comments are made on the diversity of the group in the Neotropical region. Steps for the development of the Diptera diversity knowledge in the region are suggested, including availability of information and fauna description. These suggestions intend to widen our knowledge of the Neotropical entomofauna, including phylogenetic relationships and biogeographic evolution, so as it can be better conserved.
Key words: Dipterology, Neotropical region, Diptera, biodiversity, megadiverse insects, systematics.

I. Diagnóstico sobre dípteros neotropicales PRIBES 2002: 37-52
Principais coleções brasileiras de Diptera: Histórico e situação atual
Claudio José Barros de Carvalho, Márcia Souto Couri, Ronaldo Toma, José Albertino Rafael, Ana Yoshi Harada, Sionei Ricardo Bonatto, Augusto Loureiro Henriques & Hilda Alice de Oliveira Gastal
Resumo
É apresentado um diagnóstico das seis principais coleções de Diptera no Brasil. Indica-se também o contexto histórico de como essas coleções foram formadas e desenvolvidas, incluindo a importância da atuação de alguns pesquisadores. No Brasil estão depositados 870.898 espécimens de dípteros alfinetados ou em lâminas, cerca de 45 % identificados, no mínimo em nível genérico, nas seguintes coleções: Departamento de Zoologia da Universidade Federal do Paraná (DZUP); Instituto Nacional de Pesquisas da Amazônia (INPA); Museu de Ciências Naturais, Fundação Zoobotânica do Rio Grande do Sul (MCNZ); Museu Nacional do Rio de Janeiro (MNRJ); Museu Paraense Emílio Goeldi (MPEG) e Museu de Zoologia, Universidade de São Paulo (MZSP). Algumas dessas coleções estão sendo informatizadas; a do MNRJ possui cerca de 70 % dos dípteros em banco de dados; a coleção de Tabanidae do INPA está disponibilizada na Internet. As coleções melhor estudadas e mais representativas são aquelas onde existem ou existiram especialistas ativos nas Instituições.
Palavras chaves: Brasil, Coleções de Diptera, Taxomomia.
Main Brazilian collections of Diptera: an historical review and current status
Abstract
An historical account and the current status of the six most important Diptera collections in Brazil are presented, describing how they were built and the participation of some researchers in this process. There are 870,898 pinned or slide-mounted specimens in Brazil, about 45% of them identified at least to genus. The main collections are housed in the following Institutions: "Departamento de Zoologia da Universidade Federal do Paraná" (DZUP); "Instituto Nacional de Pesquisas da Amazônia" (INPA); "Museu de Ciências Naturais, Fundação Zoobotânica do Rio Grande do Sul" (MCNZ); "Museu Nacional do Rio de Janeiro" (MNRJ); "Museu Paraense Emílio Goeldi" (MPEG) and "Museu de Zoologia, Universidade de São Paulo" (MZSP). The information of some collections are being databased. About 70 % of the collection of MNRJ has been databased, and the Tabanidae collection of INPA is already available through the Internet. The more representative and best studied collections are those with Diptera specialists in the institutions.
Key words: Brazil, Diptera Collections, Taxonomy.
II. Inventarios y biodiversidad de insectos PRIBES 2002: 55-68
Relação entre o número de espécies e o número de táxones de
alto nível para a fauna de artrópodes dos Açores
P. A. V. Borges, C. Aguiar , G. André , H. Enghoff , C. Gaspar , C. Melo , J. A. Quartau ,
S. P. Ribeiro , A. R. M. Serrano , L. Vieira, A. Vitorino & J. Wunderlich
Resumo
Nesta contribuição pretendemos avaliar a aplicação dos modelos RESTAN, "Relação entre o número de Espécies e o número de Táxones de Alto Nível", à fauna de artrópodes de vários habitats das ilhas dos Açores. Utilizámos várias bases de dados recentemente obtidas baseadas em amostragens estandardizadas de artrópodes epígeos do solo em florestas de áreas protegidas, artrópodes fitófagos e predadores de pastagens semeadas e semi-naturais e artrópodes da copa da árvore endémica Juniperus brevifolia. Os modelos RESTAN são aplicados não só usando dados puramente taxonómicos, mas igualmente agrupando os taxa em termos de estratégias ecológicas (e.g. herbívoros, predadores) e de colonização das ilhas (e.g. endémicos). Deste modo pensamos poder avaliar a aplicabilidade destes modelos em estudos de estrutura de comunidades e de conservação. Para os Açores, a aplicação dos modelos RESTAN constitui uma forma muito prática e eficaz de obter estimativas de diversidade. De facto, em todas as matrizes de dados analisadas a riqueza de espécies pode ser estimada eficazmente usando apenas a riqueza em géneros, sendo a relação linear. Ao nível da família, os modelos estimadores possuem um menor poder explicativo e são melhor explicados por uma função exponencial. O escalonamento de Reservas Florestais Naturais dos Açores em termos de biodiversidade de artrópodes endémicos pode ser efectuado usando informação taxonómica ao nível do género. A aplicação de métodos de estimativa rápida de biodiversidade fica assim facilitada, podendo usar-se parataxonomistas bem treinados para o processo de triagem do grande número de amostras geralmente necessárias em estudos ecológicos. Discute-se igualmente a aplicabilidade dos modelos RESTAN a dados de diversidade alfa, beta e gama.
Use of Higher Taxa Richness as surrogate of Species Richness for the Azorean Arthropods
Summary
In this contribution we examine the predictive power of numbers of higher taxa (orders, families and genera) as surrogates of species richness ("RESTAN" models – models based on linear relationship between species and higher taxa numbers) for the Azorean arthropod fauna. Recently, two large entomological and ecological studies were performed in the Azores, using standardized sampling protocols to estimate the diversity of arthropods in grassland and native forests. We use datasets available from those studies to address a few technical questions:
A.what is the impact of using several measures of diversity (alpha, gamma and beta species diversity; Shannon-Wiener index of diversity; Evenness) based on numbers of families and genera for canopy arthropods? For instance, could be predicted that values of beta-diversity decrease with the use of higher-taxa estimates. All the measures of diversity could be used, being the genera the best predictor;
B.how well behave the RESTAN models for functional groups of species like grass-feeding and web-building spiders in grasslands? The predictive power of higher-taxa is low using web-building spiders, due to few families being envolved and some genera having many species locally represented;
C.assuming at least one sample with no species then there will be also no higher-taxa in that sample. Consequently, the curve of the relationship between higher-taxa richness and species richness should be anchored to the origin (y= bx). What is the predictive value of this model in comparison with the linear (y =a + bx), log-log (log y = a + b log x) and exponential (y = A · e b x) models? The best fit was obtained with the linear model for the genus-species relationship, but the variables are not normally distributed and the log-log model should be preferable. For the family-species relationship the exponential model is the best. The linear model anchored to the origin (y =bx) has some statistical pitfalls and was of less predictive value;
D.in conservation studies what is the predictive value of higher-taxa in ranking protected areas? We found that the numbers of arthropod genera could successfully rank the Natural Forest Reserves as well as numbers of species (using endemic species dataset).
We found that in the Azores the predictions of species richness using higher-taxa are quite reasonable, mainly because of low levels of diversity. Therefore, cost-effective studies could use only genera, since the species richness of arthropods could be predicted reasonably closely from their genus-level richness. Family and order-level data were less informative for all datasets. We suggest that in the Azores as a consequence of the low levels of species diversification with a great proportion of monospecific genera, the use of parataxonomists trained in genus-level identification could be appropriate for sorting large numbers of ecological samples.
II. Inventarios y biodiversidad de insectos PRIBES 2002: 69-83

Diversidade e similaridade entre habitats com base na fauna de Coleoptera
de Serapilheira de uma floresta de terra firme da Amazônia central*
Maria das Graças Vale Barbosa, Claudio Ruy Vasconcelos da Fonseca,
Peter Michel Hammond & Nigel E. Stork
Resumo
A variação na riqueza de espécies numa escala paisagística é uma consideração importante no planejamento de conservação e manejo de recursos naturais. Levantamentos sobre a fauna de um determinado lugar fornecem informações sobre aspectos da riqueza de espécies. Durante o período de fevereiro de 1995 a janeiro de 1996, através do método de bolsas de Winkler, realizou-se um estudo sobre a fauna de Coleoptera fazendo-se extrações de 864 m2 de serapilheira em três áreas de um hectare, localizadas em florestas de Platô, Vertente e Campinarana, dentro da Reserva Florestal Adolpho Ducke, (020 55' S, 590 59' W) cerca de 26 km da cidade de Manaus, na Amazônia Central. Foram coletados, 41.301 macro-invertebrados sendo que destes 1.467 foram indivíduos de Coleoptera. Identificou-se 401 espécies, destas 229 foram espécies "singleton" e 32 foram consideradas mais abundantes com pelo menos 10 indivíduos. A comparação das três áreas amostradas em relação a diversidade de espécies, apresentou maiores índices nas áreas de Vertente e Campinarana. A similaridade entre as áreas, em relação a composição de família, apresentou uma sobreposição demonstrando razoável similaridade, no entanto, em relação as espécies de Coleoptera, de uma forma geral, a similaridade foi baixa, sugerindo que a composição de espécies de Coleoptera entre as três áreas é diferente.
Palavras chave: Amazônia Central, Coleóptera, Diversidade de espécies, Floresta tropical, Serapilheira
Diversity and similarity between habitats based on the leaf litter Coleoptera fauna from the terra firme forest of Central Amazonia
Abstract
Variation in species richness at the landscape scale is an important consideration in conservation planning and natural resource management. Rapid inventory assessment must provide information on diversity aspects such as local species richness and between-site species similarity. This was done for Coleoptera fauna, at three hectare sites named A (Plateau), B (Slope) and C (Campinarana) at the Reserve Ducke, a tropical forest near to Manaus in Central Amazonia. Between February 1995 and January 1996 a total of 41,301 macro-invertebrates were sampled from 864 m2 on leaf litter using the Winkler bag method. Determination of the families, morphotyped to species, was found to be sufficient to classify the samples. Thirty-seven families were found and patterns of Coleoptera species composition were analysed in an assemblage of 1,467 individuals and 401 species. The great majority of species had minimal abundance; the number of species represented by a single specimen was always maximal. Diversity patterns were studied in the three plots. Sites "B" and "C" were much richer in species. To estimate local species richness we applied various statistical techniques. The taxonomic composition at site "A" was different from the other sites. Analyzing a database of Coleoptera between-site similarities of fauna was assessed. The resulting indices in family composition suggest that there is considerable overlap among the different sites, but the indices for species composition were generally low, suggesting there is no overlap among the three sites.
Key Words: Coleoptera, Central Amazonian, Leaf Litter, Species Richness, Tropical Forest.
II. Inventarios y biodiversidad de insectos PRIBES 2002: 85-99
O acervo de Hymenoptera em coleções brasileiras:
Diagnóstico, importância, e avaliação
C. Roberto F. Brandão, Alexandre P. Aguiar & Sérvio T. P. Amarante
Resumo
As coleções brasileiras de Hymenoptera são diagnosticadas quanto ao seu tamanho, representatividade das superfamílias, infra-estrutura, disponibilidade de recursos humanos, e importância científica. O número total de exemplares em coleções brasileiras é estimado em cerca de 2.150.000, em 34 instituições, a maioria delas universidades, distribuídas, entretanto de modo tal que não reflete nem a diversidade nem o histórico de ocupação do Brasil. O estado de conservação do material foi considerado bom ou excelente por curadores de 26 instituições (76%). A grande maioria dos espécimes foi coletada no Brasil; os acervos de formigas e abelhas, além de alguns grupos menores, são considerados os melhores do mundo para ambientes brasileiros. A maioria dos espécimes foi coletada até a metade do século XX, em geral com base em sua importância agrícola; o material recente representa uma amostragem mais ampla, caracterizada especialmente pelo uso de Armadilhas de Malaise e de Bandejas d'água, refletindo interesses atuais em estudos de ecologia e biodiversidade. Foram registrados trabalhando em coleções brasileiras 125 técnicos de nível superior, 57 de nivel médio, e 140 em regime temporário ou voluntário; apenas 2 destas coleções encontram-se informatizadas. A necessidade de expansão física, formação e contratação de pessoal, são os principais problemas enfrentados na manutenção e gerência das coleções de Hymenoptera no Brasil. É comentada a importância de se criar uma política nacional para acervos de Hymenoptera.
Palavras chave: Biodiversidade, coleções, Ecologia, Hymenoptera.
Diagnosis and appraisal of the Hymenoptera housed in Brazilian collections
Abstract
An assessment of Hymenoptera collections in Brazil is presented, with data on their size, representativeness of each superfamily, infra-structure, human resources, and scientific importance. The total number of specimens is estimated in 2,500,000, allotted in 34 institutions, mostly universities, which are heterogeneously distributed in the country, not corresponding to the patterns of biodiversity or colonization history of Brazil. The conservation state of the specimens was considered by curators good or excellent in 26 institutions (76%). Most specimens were collected in Brazil, and the ant and bee collections, as well as of certain minor taxa, were considered the world's best for Brazilian environments. Most specimens were collected up to the first half of the XXth century, usually focusing in groups of economic importance; recent material, however, represent more exhaustive sampling efforts, characterized in particular by the use of Malaise and yellow pan traps, reflecting contemporary approaches in the study of ecology and biodiversity. As for personnel in activity in Brazilian Hymenoptera collections, a total of 125 graduated professionals, 57 undergraduates, and 140 part time or voluntary workers were registered; yet, only 2 of these collections are currently being databased and organized in electronic format. The main problems in maintaining and administering Brazilian Hymenoptera collections are considered to be: the need of space for expansion, and the education and hiring of new personnel. The need of a specific national policy for Hymenoptera collections is commented.
Key words: Biodiversity, collections, Ecology, Hymenoptera.
II. Inventarios y biodiversidad de insectos PRIBES 2002: 101-138
Filogenia y Sistemática de los himenópteros con aguijón en
la Región Neotropical (Hymenoptera: Vespomorpha)
Fernando Fernández C.
Resumen
Abejas, avispas y hormigas comprenden los llamados himenópteros con aguijón (Aculeata o Vespomorpha), grupo natural en donde el ovipositor de las hembras se ha modificado en aguijón. Vespomorpha comprende en la Región Neotropical 3 superfamilias, 25 familias, 807 géneros y alrededor de 13300 especies descritas. Se ofrece una breve revisión de la sistemática y filogenia del grupo para la región, así como un listado de las familias, subfamilias, tribus, géneros y subgéneros descritos hasta el momento.
Palabras clave: Filogenia, Neotropical, Sistemática, Vespomorpha.
Phylogeny and Systematics of Aculeate Hymenoptera in the Neotropical Region (Hymenoptera: Vespomorpha)
Abstract
Bees, wasps and ants comprise the natural group aculeate Hymenoptera (Aculeata or Vespomorpha), in which the females have the ovipositor modified in a sting. The group comprises 3 superfamiles, 25 families, 807 genera and already 13300 species in the Neotropical Region. A short revision of the systematics and phylogeny is offered, with a list of all supraspecific categories described up to date in the Neotropical region.
Key words: Neotropics, Phylogeny, Systematics, Vespomorpha.
II. Inventarios y biodiversidad de insectos PRIBES 2002: 139-151
Los Coleoptera Passalidae de Colombia
Germán Amat-García & Pedro Reyes-Castillo
Resumen
En Colombia, la familia Passalidae está representada por una subfamilia, dos tribus, 10 géneros y 65 especies. Las especies se distribuyen desde los bosques húmedos lluviosos, pluviales y secos de las zonas bajas (del nivel del mar a los 500 m) hasta los bosques montanos subandinos, andinos y altoandinos con un límite altitudinal superior cercano a los 3000 m. Se exploran los patrones de riqueza de especies desde un enfoque de la ecología del paisaje, abordando las escalas espacio-geográficas de microhábitat, hábitat, paisaje y región. Se analizan la riqueza local de la pasalidofauna en un bosque altoandino, la riqueza regional bajo un gradiente altitudinal y la riqueza del conjunto de especies en el territorio colombiano. Se discuten los límites de la riqueza de pasálidos en localidades con particularidades ecológicas y biogeográficas contrastantes y se evalúa el trabajo taxonómico sobre las especies colectadas en los últimos años.
Palabras clave: Passalidae, Coleoptera, Biodiversidad, Colombia.
The Coleoptera Passalidae of Colombia
Abstract
The Passalidae in Colombia are represented by one subfamily, 10 genera and 65 species. These species are distributed from the rain and dry forest of the lowlands (from sea level up to 500 m altitude), to Subandean, Andean and high Andean forest (near 3000 m altitude). This study tends to explore the species richness patterns from an ecological focus, undertaking different space-geographic scales like: "microhabitats", habitats, landscapes and regions (the last one limited by geographic o geopolitics parameters). Taking study cases like examples, the passalid fauna local richness in high Andean forest, the regional richness under an altitudinal gradient and the species group richness of Colombia are analyzed under data base information, richness limits of passalid beetles are studied in some sites with ecological and biogeographic contrasting properties. Finally, the taxonomic work with the specimens collected in the last years is evaluated.
Key words: Passalidae, Coleoptera, Biodiversity, Colombia.

II. Inventarios y biodiversidad de insectos PRIBES 2002: 153-172
Biodiversidad de las Mariposas (Lepidoptera: Rhopalocera) de Colombia
M. Gonzalo Andrade-C.
Resumen
Se presenta un análisis de la distribución y de la diversidad de las mariposas de Colombia a partir del estudio de la colección entomológica del Instituto de Ciencias Naturales. Se ha obtenido información para 2.107 especies de Rhopalocera. Se presenta el listado detallado por departamentos para 1.586 especies.
Palabras Clave: Riqueza, Biogeografía, afinidades ecológicas, comunidades.
Biodiversity of the butterflies (Lepidoptera: Rhopalocera) of Colombia
Abstract
An analisys is presented of the distribution and diversity of Colombia's butterflies, based on the material found in the entomological collection of the Instituto de Ciencias Naturales, with information about 2,107 species of Rhopalocera. A detailed list, by departamentos, is given for 1,586 species.
Key Words: Richness, Biogeography, ecological affinities, communities.
II. Inventarios y biodiversidad de insectos PRIBES 2002: 173-190
Limitaciones que ofrecen distintas interpretaciones taxonómicas y biogeográficas al inventario de lepidópteros hiperdiversos de las montañas neotropicales y a sus posibles aplicaciones
Angel L. Viloria
Resumen
Los grupos más diversos de lepidópteros diurnos de las zonas media y alta de las montañas neotropicales presentan problemas taxonómicos de considerable importancia. Una revisión general de los antecedentes en los estudios sistemáticos de aquellos taxones revela que antiguas interpretaciones adolecen de criterios biogeográficos para robustecer la lógica del reconocimiento de taxones; un asunto esencial en las estimaciones de biodiversidad. Para minimizar este problema, se propone la corrección de la sistemática de un grupo modelo en todos sus niveles de jerarquía taxonómica, desde subespecie hasta orden, confrontando simultáneamente con los posibles escenarios explicativos de la distribución espacial de aquellas categorías en el ámbito global. Introducir criterios simples pero rigurosos (no necesariamente novedosos) para tratar de resolver la taxonomía y la biogeografía en estos casos, tiende a mejorar el entendimiento de problemas particulares de la hiperdiversidad entre los lepidópteros que sean objeto de inventarios en zonas espacialmente complejas como los Andes y otras zonas montañosas de América tropical.
Palabras clave: Estimaciones de biodiversidad, Lepidoptera diurnas, montañas neotropicales.
Constraints imposed by various taxonomic and biogeographical interpretations on the inventory of hyperdiverse Neotropical mountain Lepidoptera and on its potential applications
Abstract
The most diverse groups of diurnal Lepidoptera from the Neotropical mountains show considerable taxonomical problems. A general account of the systematic studies on these taxa reveals that old interpretations lack of biogeographical criteria to strengthen the logics of taxon recognition, a fundamental issue for estimating biodiversity. To minimize this problem, it is proposed the correction of the systematics of a model group at every hierarchy of its taxonomy, from subspecies to order, taking into account the possible scenarios to explain the spatial distribution of each taxonomical category. Introducing simple, but rigorous (although not necessarily new), criteria in resolving the taxonomy and biogeography in these cases, tends to improve the understanding of particular problems of mega-diversity among the Lepidoptera in areas spatially complex like the Andes and other mountain regions of tropical America.
Key words: Biodiversity estimation, diurnal Lepidoptera, Neotropical mountains.

III. Marco sistemático del Proyecto PrIBES 2002 PRIBES 2002: 193-205
Classificação comentada de Coleoptera
Sergio Antonio Vanin & Sergio Ide
Resumo
Os Coleoptera constituem um grupo de insetos extremamente diversificado, com mais de 350.000 espécies descritas. Esta imensa variedade aliada ao conhecimento taxonômico desuniforme dificultam a obtenção de classificações consistentes. As monofilias da ordem e de cada uma das quatro subordens são consenso entre a maioria dos autores, entretanto as relações entre as subordens são alvo de muita controvérsia. A classificação mais recente para a ordem foi proposta por Lawrence & Newton (1995) e modificada por Lawrence et al. (1999). Neste artigo são apresentados comentários sobre trabalhos que influenciaram ou representam contribuições importantes para a reavaliação dessa classificação.
Palavras-chave: classificação, Coleoptera, diversidade, filogenia, Sistemática
An annotated classification of the Coleoptera
Abstract
The Coleoptera are an extremely diversified group of insects with more than 350,000 described species. The conjunction of this richness with the different stages in the taxonomic knowledge make it difficult to obtain consistent classifications. The monophyly of the order and of each of the four suborders are largely accepted by the authors, however the relationships among the suborders are highly controversial. The most recent classification for the order was proposed by Lawrence & Newton (1995) and modified by Lawrence et al. (1999). In this paper we present comments on works that influenced or represented important contributions for the re-evaluation of this classification.
Key words: classification, Coleoptera, diversity, phylogeny, Systematics
III. Marco sistemático del Proyecto PrIBES 2002 PRIBES 2002: 207-220
Aportes de la biología molecular a la conservación de los insectos
Analía A. Lanteri, Marta S. Loiácono & Cecilia Margaría
Resumen
El conocimiento de la diversidad genética resulta de fundamental importancia en Biología de la Conservación, pues es la base de la variación orgánica y por lo general tiene una estrecha correlación con el ajuste de las especies al medio. El objetivo principal de la presente contribución es comentar los métodos de análisis y algunos resultados obtenidos, con respecto a la estimación de la diversidad genética de especies y poblaciones de insectos, con fines de conservación. Se brindan ejemplos sobre la aplicación de la técnica de RAPD (Análisis al azar de polimorfismos del ADN) para reconocer biotipos de himenópteros parasitoides utilizados en control biológico, y para identificar el origen geográfico de insectos plaga pertenecientes a Curculionidae. Se discute la metodología de análisis de secuencias de ADN mitocondrial para reconocer "unidades evolutivas significativas" en conservación de la biodiversidad de insectos y en estudios de filogeografía. Se analizan además las implicancias de estas metodologías en investigaciones sobre genética y ecología de poblaciones, para evaluar los efectos biológicos de la fragmentación de los hábitats naturales.
Palabras clave: Diversidad genética, Técnicas moleculares, Filogeografía, Fragmentación, Control Biológico.
Genetic diversity and conservation of insects
Abstract
The knowledge of genetic diversity is an outstanding aspect of Biological Conservation, because organic variation depends on genetic diversity, that it is usually correlated to environmental fitness of species. The main objective of the present contribution deals with the analytical methods and results, on estimation of genetic diversity of insect species and populations, for conservation. We give examples of application of RAPD technique (Random analysis of polymorphic DNA) to recognize biotypes of parasitoid Hymenoptera used in biological control, and to identify the geographic origin of insect pests of Curculionidae. We discuss the methodology of mitochondiral DNA sequencing to recognize "significant evolutionary units" for conservation of insect biodiversity and for phylogeographic studies. We also analyze the uses of these methodologies, in genetic and ecological studies of populations, to assess the biological effects of habitat fragmentation.
Key words: Genetic diversity, Molecular techniques, Phylogeography, Fragmentation,
Biological control.
III. Marco sistemático del Proyecto PrIBES 2002 PRIBES 2002: 221-230
Estado actual del conocimiento de microhimenópteros Chalcidoidea,
Cynipoidea y "Proctotrupoidea" en Argentina
Marta S. Loiácono, Norma B. Díaz & Luis De Santis (_)
Resumen
Se presenta una actualización del conocimiento sobre la diversidad de Hymenoptera Chalcidoidea, Cynipoidea y "Proctotrupoidea" de Argentina, basada en una revisión bibliográfica; se registran 18 familias, 263 géneros y 822 especies de Chalcidoidea; 4 familias, 35 géneros y 58 especies de Cynipoidea; 8 familias, 48 géneros y 117 especies de "Proctotrupoidea". Se detallan las clasificaciones utilizadas, filogenia, biología, y los recursos entomológicos (colecciones, taxónomos) disponibles en la actualidad para el país.
Palabras claves: Hymenoptera, Chalcidoidea, Cynipoidea, "Proctotrupoidea", diversidad,
recursos entomológicos , Argentina.

Current knowledge of Argentina's Chalcidoidea, Cynipoidea and "Proctotrupoidea" microhymenopterans
Abstract
An updated view of current knowledge of the argentinean Hymenoptera Chalcidoidea, Cynipoidea and "Proctotrupoidea" is given, based upon a bibliographical review; 18 families, 263 genera and 822 species of Chalcidoidea; 4 families, 35 genera and 58 species of Cynipoidea; 8 families, 48 genera and 117 species of "Proctotrupoidea" are included. Higher classification, biology, diversity and the main entomological resources (collections, taxonomists) available up to date are reviewed.
Key words: Hymenoptera, Chalcidoidea, Cynipoidea, "Proctotrupoidea", diversity,
entomological resources, Argentina.

III. Marco sistemático del Proyecto PrIBES 2002 PRIBES 2002: 231-237
Estado del conocimiento de los Cynipoidea en la Región Neotropical (Hymenoptera)
Norma B. Díaz, Fabiana E. Gallardo & Silvana P. Durante

Resumen
En este trabajo se presenta una síntesis del conocimiento acerca de la diversidad de los Cynipoidea (Hymenoptera) en la región Neotropical. Hasta la fecha se registraron para este grupo 667 especies pertenecientes a cuatro familias; la familia mejor representada es Figitidae con 457, seguida por Cynipidae con 175, Liopteridae con 33 e Ibaliidae con dos. Se incluye además información actualizada sobre su clasificación, filogenia, registros fósiles y los principales recursos (bibliografía, colecciones y taxónomos) disponibles hasta la fecha para esta región.
Palabras clave: Hymenoptera, Cynipoidea, diversidad, clasificación, filogenia, recursos.
The Cynipoidea (Hymenoptera) of the Neotropical Region: The state of the art
Abstract
A synthesis of the knowledge of the Cynipoidea diversity in Neotropical region is provided. They include a total of 667 species belonging to four families; the richest family in number of species is Figitidae with 457, followed by Cynipidae with 175, Liopteridae with 33 and Iballidae with two. This work includes information about classification, phylogeny, fossils and the main entomological resources (bibliography, collections and taxonomists) available up to date for this region.
Key words: Hymenoptera, Cynipoidea, diversity, classification, phylogeny, resources.
III. Marco sistemático del Proyecto PrIBES 2002 PRIBES 2002: 239-243
Sinopsis de las familias y subfamilias de Hymenoptera en la Región Neotropical
Fernando Fernández C.
Resumen
Se presenta la sinopsis de las familias y subfamilias de Hymenoptera en la Región Neotropical. Se sugiere eliminar los nombres Symphyta y Apocrita como subórdenes de Hymenoptera. A pesar de los estudios morfológicos, paleontológicos y moleculares detrás de algunos nuevos nombres como Ichneumonomorpha, Evaniomorpha, etc., se sugiere no usarlos hasta que haya un mejor conocimiento de la filogenia y sistemática del orden. Se propone dividir el orden en superfamilias, más estables y mejor definidas. Se propone una clasificación del orden dividida en 20 superfamilias y 76 familias para el Neotrópico.
Palabras clave: Hymenoptera, Región Neotropical, Sinopsis, Clasificación
A synopsis of the families and subfamilies of the Hymenoptera in the Neotropical Region
Abstract
A synopsis of the Neotropical Hymenoptera higher taxa is offered. The name "Symphyta" (paraphyletic taxon) could be abandoned, and the names ending in –morpha (Ichneumonomorpha, Evaniomorpha ) should be not used until a better knownledge of the phylogeny and systematics of the order is achieved. The order can be divided into superfamilies, categories more stable and better defined. A proposal of higher classification is made, with a list of 20 superfamilies and 76 families for the Neotropics.
Key Words: Hymenoptera, Neotropical Region, Synopsis, Clasificación.
IV. Escenarios biogeográficos del proyecto PRIBES 2002 PRIBES 2002: 247-266
Áreas de distribución y endemismo en zonas continentales
Sergio Roig-Juñent, Jorge V. Crisci, Paula Posadas & Susana Lagos
Resumen
En Biogeografía Histórica hay dos patrones básicos que constituyen sus unidades de estudio, siendo uno de ellos las áreas de distribución. La forma básica de representar este patrón es graficando en un mapa cada dato de colecta por medio de un símbolo. Esta representación puntual es la más objetiva, sin embargo presenta el gran inconveniente de no permitir la comparación con otras áreas de distribución. Para solucionar este problema, se aplican otras metodologías que transforman los datos puntuales en áreas más o menos continuas. El segundo patrón básico de la Biogeografía Histórica lo constituyen las áreas de endemismo. La mayoría de las propuestas para delimitar áreas de endemismo parten de la premisa de simpatría entre dos o más especies. Sin embargo, el grado de simpatría que se puede observar es dependiente de la metodología utilizada para delimitar áreas de distribución de los distintos taxones y del método de comparación. En este aporte, se presentan brevemente las distintas hipótesis de trabajo que utilizan los biogeógrafos para delimitar áreas de distribución y endemismo. De los distintos métodos expuestos, se considera que el que reune mayores ventajas, como repetibilidad y objetividad para tratar los datos de colecta, es la cuadriculación del área.
Utilizando esta metología se realizó un análisis de la región centro y noroeste de Argentina. El área fue dividida en 78 cuadrículas de un grado de longitud por un grado de latitud y se volcó la información de la distribución de 47 especies endémicas del área. El primer paso fue la eliminación de 40 cuadrículas que no poseían información. Para establecer las relaciones entre las cuadrículas se realizó un Análisis de endemicidad (PAE), con las opciones de búsqueda heurística del programa NONA 2.0. Se obtuvieron 318 cladogramas (l=162; ci=29; ri=58), cuyo consenso estricto muestra una gran irresolución para 18 de las 39 cuadrículas analizadas. Sin embargo, las 21 restantes forman tres conjuntos que representan áreas de endemismo. Un segundo, análisis utilizando la misma metodología, fue realizado eliminando cuadrículas "conflictivas". Sobre la base de 38 cuadrículas, se obtuvieron 12 cladogramas (l=155; ci=30; ri=58), cuyo consenso estricto muestra una mayor resolución y posee una gran concordancia con las áreas de endemismo obtenidas por otros métodos. En la última sección se muestra cómo las áreas de endemismo pueden ser valoradas, tomando como ejemplo 18 de ellas de América del Sur austral. Para poder realizar esta valoración se ha escogido la familia Carabidae (Coleoptera) y sobre la base de datos de 1251 especies de Carabidae se estimó la diversidad específica, el porcentaje de endemismo y el valor filogenético para cada área de endemismo. Se puede observar que la diversidad específica podría estar sesgada debido a que son áreas muy estudiadas, por lo que este tipo de mapa permite visualizar si determinadas zonas necesitan ser mejor prospectadas. El porcentaje de endemismo y la valoración filogenética no poseen este sesgo y permiten obtener el grado de importancia de cada región.
Palabras clave: Áreas de distribución, Áreas de endemicidad, Análisis parsimonioso de endemicidad, Argentina.

Distribution areas and endemicity in continental areas
Abstract
The field of Historic Biogeography includes two basic patterns, one of them being distribution areas. The basic way of representing distribution areas is by drawing a symbol on a map for each species collected. This representation by symbols is the most objective one, but it has a great shortcoming since it prevents comparisons with other distribution areas. To solve this problem, some methods are used that tranform symbols into continuous areas. Areas of endemism constitute the other basic pattern of Historic Biogeography. Most proposals to delimit areas of endemism are based on the premise of sympatry between two or mores species. However, the degree of sympatry depends on the method used to delimit the distribution areas of different taxa, and on the method for comparing them. This contribution briefly presents the various working hipotheses used by biogeographers to delimit areas of both distribution and endemism. Of the differents methods proposed, dividing the area into squares is considered to have more advantages, such as repetitiveness and objectivity, in the treatment of collected data.
Central and northwestern Argentina were analyzed with this methodology. The area was divided into 78 squares one degree longitude by one degree latitude. Information on the distribution of 47 species endemic to the area was put on the map. The first step was the elimination of 40 squares devoid of information. An analysis of endemicity (PAE) was made for establishing inter-square relationships, applying a heuristic search with the NONA 2.0 program. A total 318 cladograms (l= 162; ci=29; ri= 58) were obtained, the strict consensus tree of which shows no resolution for 18 of the 39 squares analyzed. Nonetheless, the remaining 21 squares conform three groups representing areas of endemism. Second, an analysis using the same methodology was carried out, eliminating "conflicting" squares. On the basis of 38 squares, 12 cladograms (l=155; ci=30; ri=58) were obtained, the strict consensus tree of which exhibits higher resolution and has great agreement with areas of endemism found by other methods. The last section shows how areas of endemism can be assessed, taking 18 of them from southern South America as an example. The family Carabidae (Coleoptera) was chosen to achieve this assessment. Specific diversity, percentage of endemism, and phylogenetic value were estimated with a data base of 1251 Carabidae species for each area of endemism. Specific diversity might be biased because these are extensively prospected areas, on account of which this kind of map allows to visualize whether particular zones need further survey. The percentage of endemism and phylogenetic value are not biased and allow to determine the importance of each area.
Key words: Areas of distribution, Areas of endemism, Parsimony analysis of endemicity, Argentina.
IV. Escenarios biogeográficos del proyecto PRIBES 2002 PRIBES 2002: 267-275
Presentación sintética de un nuevo esquema biogeográfico de América Latina y el Caribe
Juan J. Morrone
Resumen
Se propone un nuevo esquema biogeográfico para América Latina y el Caribe, con tres regiones, ocho subregiones y 70 provincias. La región Neártica se sitúa en las regiones templado frías de América del Norte, en Canadá, E.U.A. y norte de México; comprende cinco provincias: California, Baja California, Sonora, Altiplano Mexicano y Tamaulipas. La región Neotropical se sitúa en los trópicos, desde el norte de México hasta el centro de la Argentina; comprende cuatro subregiones. La subregión Caribeña es la más septentrional, extendiéndose en el centro y sur de México, Mesoamérica, las Indias Occidentales y el noroeste de América del Sur; comprende 29 provincias: Sierra Madre Occidental, Sierra Madre Oriental, Eje Transmexicano Volcánico, Depresión del Balsas, Sierra Madre del Sur, Costa Pacífica Mexicana, Golfo de México, Península de Yucatán, Chiapas, Oriente de América Central, Oeste del Istmo de Panamá, Bahamas, Cuba, islas Caimán, Jamaica, La Española, Puerto Rico, Antillas Menores, Chocó, Maracaibo, Costa Venezolana, Trinidad y Tobago, Magdalena, Llanos Venezolanos, Cauca, islas Galápagos, Ecuador Occidental, Ecuador Árido y Tumbes-Piura. La subregión Amazónica es la mayor de la región Neotropical, extendiéndose por la mayor parte del Brasil y las Guyanas, y parte de Venezuela, Colombia, Ecuador, Perú, Bolivia, Paraguay y Argentina; comprende 13 provincias: Napo, Imerí, Guyana, Guyana Húmeda, Roraima, Amapá, Varzea, Ucayali, Madeira, Tapajos-Xingú, Pará, Pantanal y Yungas. La subregión Chaqueña se sitúa en el norte y centro de la Argentina, sur de Bolivia, oeste y centro de Paraguay, y centro y noroeste del Brasil; comprende cinco provincias: Caatinga, Cerrado, Chaco, Pampa y Monte. La subregión Paranaense se sitúa en el noreste de la Argentina, este de Paraguay y sur y este del Brasil; comprende tres provincias: Bosque Atlántico Brasileño, Bosque Paranaense y Bosque de Araucaria angustifolia. La región Andina se extiende a lo largo de las tierras altas de Venezuela, Colombia y Ecuador, el desierto costero del Perú, Bolivia, norte de Chile y de Argentina, hasta la Patagonia argentino-chilena; comprende cuatro subregiones. La subregión Páramo Puneña comprende los Andes entre el oeste de Venezuela y norte de Chile y centro oeste de la Argentina; comprende cinco provincias: Páramo Norandino, Desierto Peruano Costero, Puna, Atacama y Prepuna. La subregión Chilena Central se extiende en el centro de Chile, entre 30-34_ de latitud sur; comprende dos provincias: Coquimbo y Santiago. La subregión Subantártica comprende los Andes australes, desde los 37_ de latitud sur hasta el Cabo de Hornos, incluyendo el archipiélago del sur de Chile y la Argentina, y las islas Malvinas, Georgia del Sur y Juan Fernández; comprende seis provincias: Islas Juan Fernández, Maule, Bosque Valdiviano, Bosque Magallánico, Páramo Magallánico e Islas Malvinas. La subregión Patagónica se extiende en el sur de la Argentina, desde el centro de Mendoza, ensanchándose hacia Neuquén, Río Negro, Chubut y Santa Cruz, hasta el norte de Tierra del Fuego; y alcanzando Chile en Aisén y Magallanes; comprende dos provincias: Patagonia Central y Patagonia Subandina.
Outline of a new biogeographical scheme for Latin America and the Caribbean
Abstract
A new biogeographic scheme for Latin America and the Caribbean is proposed, with three regions, eight subregions, and 70 provinces. The Nearctic region is situated in the cold-temperate areas of North America, in Canada, the U.S.A., and northern Mexico; it is comprised of five provinces: California, Baja California, Sonora, Mexican Plateau, and Tamaulipas. The Neotropical region is situated in the tropics, from northern Mexico to central Argentina; it is comprised of four subregions. The Caribbean subregion is the most septentrional, extending in central and southern Mexico, Mesoamerica, the Western Indies, and northwestern South America; it is comprised of 29 provinces: Sierra Madre Occidental, Sierra Madre Oriental, Transmexican Volcanic Belt, Balsas Basin, Sierra Madre del Sur, Mexican Pacific Coast, Mexican Gulf, Yucatan Peninsula, Chiapas, Eastern Central America, Western Panamanian Isthmus, Bahama, Cuba, Cayman islands, Jamaica, Hispaniola, Puerto Rico, Lesser Antilles, Choco, Maracaibo, Venezuelan Coast, Trinidad and Tobago, Magdalena, Venezuelan Llanos, Cauca, Galapagos Islands, Western Ecuador, Arid Ecuador, and Tumbes-Piura. The Amazonian subregion is the largest of the Neotropical region, extending in most of Brazil and the Guianas, and part of Venezuela, Colombia, Ecuador, Peru, Bolivia, Paraguay, and Argentina; it is comprised of 13 provinces: Napo, Imeri, Guyana, Humid Guyana, Roraima, Amapa, Varzea, Ucayali, Madeira, Tapajos-Xingu, Para, Pantanal, and Yungas. The Chacoan subregion is ranged in northern and central Argentina, southern Bolivia, western and central Paraguay, and central and northwestern Brazil; it is comprised of five provinces: Caatinga, Cerrado, Chaco, Pampa, and Monte. The Parana subregion is situated in northeastern Argentina, eastern Paraguay, and southern and eastern Brazil; it is comprised of three provinces: Brazilian Atlantic Forest, Parana Forest, and Araucaria angustifolia Forest. The Andean region extends along the highlands of Venezuela, Colombia, and Ecuador, the Coastal Desert and Puna of Peru, Bolivia, northern Chile, and northern Argentina, to the Argentinean-Chilean Patagonia; it is comprised of four subregions. The Paramo Punan subregion comprises the high Andes between western Venezuela and northern Chile and central western Argentina; it is comprised of five provinces: North Andean Paramo, Coastal Peruvian Desert, Puna, Atacama, and Prepuna. The Central Chilean subregion extends in central Chile, between 30-34_ south latitude; it is comprised of two provinces: Coquimbo and Santiago. The Subantarctic subregion comprises the austral Andes, from 37_ south latitude to Cabo de Hornos, including the archipelago of southern Chile and Argentina, and the Falkland, South Georgia, and Juan Fernandez islands; it is comprised of six provinces: Juan Fernandez Islands, Maule, Valdivian Forest, Magellanic Forest, Magellanic Paramo, and the Falkland Islands. The Patagonian subregion extends in southern Argentina, from central Mendoza, widening through Neuquen, Rio Negro, Chubut, and Santa Cruz, to northern Tierra del Fuego; and reaching Chile in Aisen and Magallanes; it is comprised of two provinces: Central Patagonia and Subandean Patagonia.

IV. Escenarios biogeográficos del proyecto PRIBES 2002 PRIBES 2002: 277-293
Os coleópteros carabóides endémicos da Península Ibérica em Portugal (Coleoptera: Caraboidea):
Padrões de distribuição e tentativa de ordenação das áreas protegidas
Artur R. M. Serrano
Resumo
Neste trabalho os coleópteros carabóides endémicos da Península Ibérica que ocorrem em Portugal, ou seja, endemismos estritamente lusitânicos e ibéricos, foram utilizados para, através dos seus padrões de distribuição, se detectarem as áreas de maior endemismo, assim como para se avaliar, em termos de conserva-ção, as 23 Áreas Protegidas ("APs") que já existem neste país. Para alcançar o primeiro objectivo as 110 formas endémicas conhecidas foram referenciadas em quadrículas decaquilométricas do sistema UTM. Para atingir o segundo objectivo foram executadas várias análises. Para cada forma foi calculado o respectivo índice de raridade baseado na sua distribuição. Adicionalmente foram aplicados outros índices para classificar as "APs". As distribuições das frequências do índice de raridade mostraram que existe uma grande proporção de formas raras relativamente às outras e que há uma tendência para que uma grande proporção das formas mais vulgares esteja representada nas "APs", ao contrário do que sucede com as mais raras. Das 81 formas registadas para as "APs", 67% encontram-se apenas numa AP. A riqueza específica parece ser um bom avaliador do estado de conservação das 23 "APs". Se as "APs" classificadas nos dez primeiros lugares forem correctamente geridas em termos de conservação, pelo menos 79 formas (97,5%) das 81 registadas para a totalidade das mesmas poderão ser salvaguardadas.
Palavras chave: Caraboidea, Endemismos, Distribuição, Áreas Protegidas, Ordenação, Conservação, Portugal.
The caraboid Coleoptera endemic to the Iberian Peninsula in Portugal (Coleoptera: Caraboidea): Distribution patterns and an attempt at ranking the protected areas
Abstract
Endemic carabids of the Iberian Peninsula occurring in continental Portugal were used to identify "hotspots" and to evaluate the conservation value of the 23 Protected Areas (PAs) of this country. For each of the 110 known endemic carabids, their distribution into 967 grid-cells (10 km x 10 km, UTM system) was done, using data from the literature and collections. Based on those distributions a rarity index was calculated. In addition, several scoring indices were used to rank the 23 PAs. Frequency distributions of the rarity index indicated that there are a great proportion of rare forms and a tendency for a greater proportion of the commonest forms being represented in the PAs in contrast with a lower representation of the rarest forms. About 67% of the endemic carabids that were recorded from the PAs (N= 81) are "single PA endemics", that is, are known from only one of the 23 PAs. Species richness was considered to be a very good surrogate measure of the conservation value of the 23 PAs under study. If the ten highest ranked PAs are correctly managed in terms of conservation, then at least 97.5% (N=79) of the endemic carabids known from the PAs could be protected.
Key words: Caraboidea, Endemics, Distribution, Protected Areas, Ranking, Conservation, Portugal.
V. Protocolos de muestreo del proyecto PRIBES 2002 PRIBES 2002: 297-300
El Proyecto "Diversidad de Insectos en Colombia"
Diego F. Campos M. & Fernando Fernández C.
Resumen
Se presenta, brevemente, el proyecto "Diversidad de Insectos de Colombia", las instituciones participantes, objetivos y áreas geográficas de colección. El proyecto hace énfasis en colección de Hymenoptera, Coleoptera y Diptera en varios parques y áreas de conservación que cubren las cinco grandes regiones naturales del país.
Palabras claves: Proyecto, Diversidad, Hymenoptera, Coleoptera, Diptera.
The "Insect Diversity in Colombia" project
Abstract
A summary of the project "Insect Diversity in Colombia" is presented, including institutions behind the proposal, goals, and geographical range of collections. The project is focused in several taxa in the following insect orders: Hymenoptera, Coleoptera and Diptera, collected in several parks and reserves covering all the five natural areas of the country.
Key words: Project, Diversity, Hymenoptera, Coleoptera, Diptera.

V. Protocolos de muestreo del proyecto PRIBES 2002 PRIBES 2002: 301-304
A amostragem. Protocolo e técnicas de captura de Diptera
José Albertino Rafael
Resumo
Apresenta-se os métodos mais eficientes na captura dos dípteros, suas vantagens, desvantagens e sugere-se padronização para cada método: coletas com rede entomológica, armadilha Malaise, armadilha suspensa, armadilha Shannon, armadilha adesiva, termonebulização e bandeja colorida.
Palavras-chave: amostragem de Diptera, técnicas de coleta, protocolo.
Sampling. Protocols and techniques for the collection of Diptera
Abstract
The more efficient methods to collect Diptera are presented with their advantages and disadvantages and a protocol to each method is suggested: collection with insect net, Malaise trap, suspendable Malaise trap, Shannon trap, sticky trap, fogging and pan trap.
Key words: sampling Diptera, collection tecniques, protocol.
VI. Museos y colecciones de Historia Natural PRIBES 2002: 307-318
Colecciones entomológicas en instituciones taxonómicas de Iberoamérica:
¿Hacia estrategias para el inventario de la biodiversidad?
Jorge Enrique Llorente-Bousquets & Diana Jimena Castro-Gerardino
Resumen
Se efectúan algunas reflexiones sobre colecciones entomológicas, grupos de insectos hiperdiversos y museos o instituciones taxonómicos en Iberoamérica. Se plantea un esquema para distintas concepciones históricas de inventario biológico: bíblico, linneano y hennigiano. Se sintetizan algunas ideas y visiones respecto a los inventarios entomológicos, con base en recolecciones masivas, y las dificultades técnicas, taxonómicas y de medios económicos para llevarlas a cabo. Se consideran las funciones y términos de calidad de una colección para fines taxonómicos. Se enfatiza en los nuevos desafíos en el trabajo de colecciones y el empleo de herramientas modernas como los sistemas de información geográfica y la técnica de reacción en cadena de la polimerasa. Se plantea la necesidad de hacer cambios importantes en la formación de los nuevos gestores y directores de museos e instituciones taxonómicas. Finalmente se hacen preguntas en relación con la posibilidad de realizar el gran inventario de los grupos de insectos hiperdiversos en el Neotrópico.
Palabras clave: colecciones, Neotrópico, grupos de insectos hiperdiversos, museos,
bioinformática, Taxonomía, Sistemática, inventarios.
The entomological collections kept at Latin American taxonomic institutions: Towards strategies for inventorying biodiversity?
Abstract
Some reflections are doing about entomological collections, hyperdiverse insect groups and taxonomic museums or institutions in Iberoamerica. A scheme is proposed to several historical conceptions over biological inventories: biblical, linnaean, and hennigian. Some ideas and visions are synthesized as concerns entomological inventories (making bulk recollections). It is considered financial problems and difficulties with organization. Functions and qualities of entomological collections are considered too. Challenges and tool news used in collections are observed like geographical information systems. It is necessary to do important changes in the administrators and directors of museums or taxonomic institutions. Finally, we make several questions in relation to bigger inventories of hyperdiverse insect groups in Neotropic region.
Key words: collections, Neotropic, hyperdiverse insect groups, museums, bioinformatic,
Taxonomy, Systematic, inventories.
VII. Balance y Perspectivas PRIBES 2002: 321-327
Epilogo: Estableciendo las bases de un proyecto Iberoamericano para la
estimación e inventario de la diversidad entomológica
Jorge M. Lobo & Fermín Martín-Piera