Capture-mark-recapture studies require the individual identification of all captured beetles. Individualization of each marked beetle can be achieved in two basic ways: by writing a number on the beetle's back or by using a dots code (Fig. 1). In large Lucanidae it is possible to write a number, but for smaller species it is easier to use the dots code. Several techniques to mark Lucanidae are described below.
1. Notches on the elytra.- Notches, arranged according to the dots code (Fig. 1), can be cut in the border of the elytra with the help of a cutter. This method is more suitable for big species, but it is in general not advisable due to its intrusive character.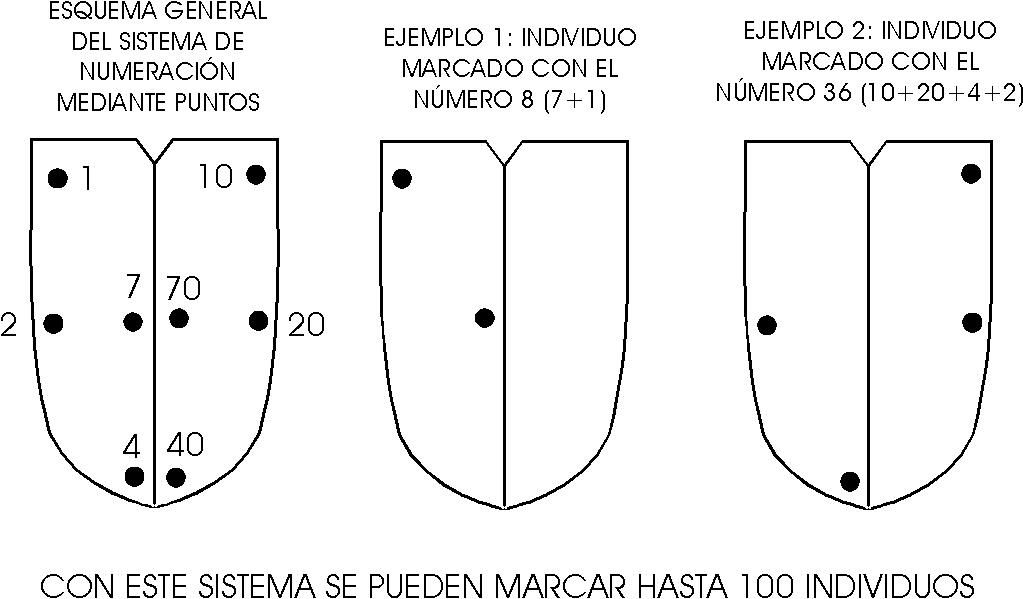 Fig. 1. Dots code utilised to mark insects individually. In the left panel, dots show the places of the elytra where marks are performed, as well as the value given to each dot. Some numbers are obtained by drawing a single dot; others are obtained by adding the value of two or more dots, as shown in the examples (central and right panels). The highest number that can be obtained with this dots code is 99.
2. Carving of elytra.- Numbers or dots can be carved on the elytra with the help of a cutter. This method is very intrusive and is not recommended, especially for small species. An apparently harmless variation of this method is suggested by María Fremlin. It consist of the use of a battery operated cautery, like AMI AM-21 UltraFyn, Aaron, or similar (Fig. 2). The only drawback of this method is its high price.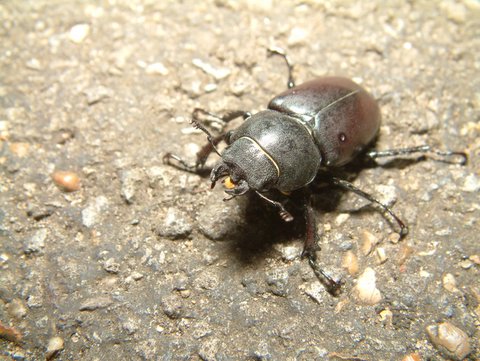 Fig. 2. Female stag beetle marked with a surgical battery operated cautery. The mark is the hole at the left upper corner on the left elytrum. Photo courtesy of Maria Fremlin.
3. Non-toxic paint.- Numbers or dots can be written with permanent, non-toxic paint on the elytra. Colour utilised should not be very conspicuous (like red, yellow, or white) in order to not affecting the natural camouflage of the beetle. It is advisable to choose shadows of brown, or gray, green or deep blue, which are easy to see when handling the beetle but not so visible from a distance. Enamel paint or fast drying nail polish can be utilised. Adela González Mejías recommends permanent markers Penol 52 Paintmarker extrafine, which perform well on the smooth elytra of Lucanidae and dry fast.